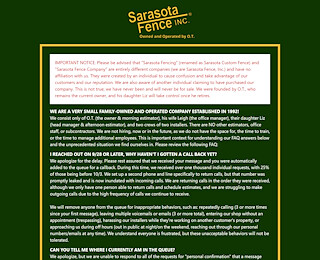 Whether you have a small business or you run a high-traffic warehouse, you will always benefit from having commercial fencing installed. You may want to secure some areas to make sure that uninvited guests do not get inside or you want to do whatever you can to enhance the comfort level of your clients. Hiring a company to install a commercial fence in Lakewood Ranch will help you to get the results that you are looking for. 
There are many benefits that come from having commercial fencing installed, including: 
Security 
When you hire a commercial fence contractor that you can trust to put in a security fence, you can increase safety on your property and cut out unwanted guest access. Adding a brand-new gate will also give you access control to prevent people from getting into sensitive areas. Both factors will help to minimize theft and also protect your business assets. 
Privacy 
To keep your commercial facility free of prying eyes, putting in a new fence helps you to achieve the level of privacy that you are looking for. Putting in a commercial fence in Lakewood Ranch will also make your facility much more discreet and easier for your clients and staff who are coming in and out. Many clients of all different types will appreciate the added level of privacy. 
Improved Resale Value 
Along with the great benefits of a commercial fence on your property, this is a facet of your business that will also help to increase value should you plan to sell in the near future. Along with increasing the curb appeal, a commercial property that has a nice fence installed around it will keep the potential buyers from having to install one after they take over. 
Aesthetics
When you run any sort of commercial or industrial facility, putting a state-of-the-art fence around it can do a whole lot to improve the overall appearance. In most cases, you will be enhancing your corporate image, but the fence will also hide things like trash receptacles, hide any warehouses onsite and mask other elements of your facility. Not only are there traditional fences that you can choose from, but the right company will also be able to go over your options for ornamental fencing. 
If you are unsure of what type of commercial fence in Lakewood Ranch suits your business best, you will find that talking with a professional fencing contractor will give you some insight as to the options that are available. Whether you want a chain link fence or a vinyl fence, the more that you know about each material and its benefits will help you to make the right decision.
When you talk to our team at Sarasota Fence, we will discuss the best ways for you to adorn your commercial space with the commercial fence in Lakewood Ranch that you need. We have many years of experience and trained installers to make sure that the job gets done right the first time. All you have to do is contact us, and we will set up a time to do a walk through at your commercial space and put together an estimate.
Commercial Fence Lakewood Ranch
We welcome your comments!