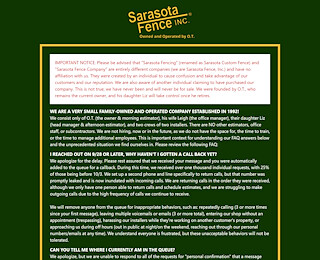 Dogs are man's best friend. They provide us with constant companionship, unconditional love, and always seem to be there whether we need someone or not. With all your dog does for you, there are some considerations you need to make to ensure life is comfortable for them. One way to do this is with the right residential fence in Lakewood Ranch.
The fence you install on your property should keep your home and property safe from intruders but it should also give your dog a safe place to play and run. Here are some considerations to make when choosing a fence if you have a dog in your family.
Keep Height in Mind
When choosing your fence, keep in mind that many dogs can climb and even clear a standard height fence without much effort. Certain breeds of dogs are better climbers than others, so it may be best to err on the side of caution. If you have a big dog, it may be best to choose a fencing material that can't be easily scaled by your furry family members.
For most breeds of dogs, having a fence that is six feet high should be fine. A four-foot-high fence is going to be far too easy for most bigger breeds such as huskies, golden retrievers, or labs to jump over. Many people add extensions to their existing fence, but what they're really doing is training their dog to jump higher. It's best to start off with a higher fence, even if your dog is just a puppy.
Keep the Outside World Out
Dogs bark because there is so much to see on the other side. When you're purchasing a fence, and you have a dog or are planning on having a dog in the future, consider a solid panel privacy fence so that your dog can't see what they're missing on the other side.
Although a chain link fence is one of the most cost-effective options when it comes to putting in a residential fence in Lakewood Ranch, if dogs barking, climbing, or hopping the fence is something you're concerned about, you may want to go with something else. A chain link fence will send your dog into hysterics every time a squirrel passes by.
Have Fun on the Right Side of the Fence
Dogs escape and go on the run for lots of reasons. They may be lonely, or hungry, or just bored. You can help keep your dog on the right side of the fence by creating an environment at home and in the yard that they won't want to leave.
If you suspect that your dog is barking or escaping because they're lonely while you're at work, consider taking them to doggy daycare while you're gone, or getting a companion dog for them. You should also make sure that if your dogs are outside during the day, they have things to keep them busy so that they don't get bored and run off in search of adventure as soon as your back is turned.
Studies have shown that people who have dogs are physically healthier, may actually live longer, and are better equipped emotionally and mentally to deal with the stressors of life. Return the favor for your dog and get a residential fence in Lakewood Ranch that gives them the security they need for a long and happy life too.
Residential Fence Lakewood Ranch
We welcome your comments!