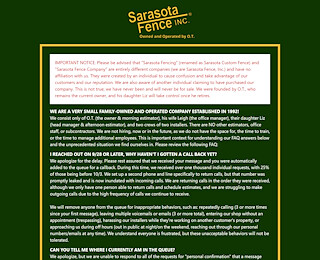 A fence can add privacy to your property and can improve your home's value. If you are considering a new residential fence in Sarasota there are a few things you will want to know before you begin shopping. Consider the size fence you will need, the location where it will be installed and the budget that you have available. This will be a good starting place for choosing a fence for your residential property.
What Type of Fencing is Available?
The most common types of fences are made from wood, vinyl or aluminum. The material that you choose for your residential fence in Sarasota is important. The material must be sturdy enough for your needs and at the same time it should be aesthetically pleasing.
Wood fences are made of high quality natural and eco-friendly products. They are among the most beautiful of all fences on the market. However, they do require regular care and maintenance to keep them looking perfect. If you have a restored home or a vintage home, wood fencing may fit with the décor.
Vinyl fences are made of durable manmade materials. Vinyl fences come in a variety of styles, colors and designs so you can find one that looks good with the architecture of your home. Vinyl fences look good for many years and do not need much maintenance. They can provide security and some styles are made to resemble wood.
Aluminum is typically the most inexpensive material for a residential fence in Sarasota. Aluminum fences are strong and durable and they won't rust or need much care. They come in a selection of sizes and styles.
How Can I Choose The Right Fencing?
There are many fencing options available. In order to determine your needs you will need to consider a few factors. First, consider the main use of the fence. You probably want it for several reasons such as to keep your pets safe and to provide privacy to your home. Once you know the main reason for your residential fence in Sarasota you can narrow down your options.
There are hundreds of different style fences to pick from. Fences may include details that make them more beautiful.  You can choose from various style posts, slats, rails, spikes and more. You can also decide how you want the fence shaped. Most fences are simply straight up and down but you can also pick from styles that are curved for a more decorative look.
Keep in mind the amount of maintenance that a residential fence in Sarasota will require. Wood fences typically require the most work because they will need to be painted or stained from time to time. Vinyl and aluminum will look good without a lot of work on your part. When you choose a fence you will also need to decide how many gates you want and where they will be placed. Pick hardware that fits the style of your home and that won't degrade over time. You can view some of the many styles of fences on our online gallery to get some ideas for your own fence.
Residential Fence Sarasota
We welcome your comments!