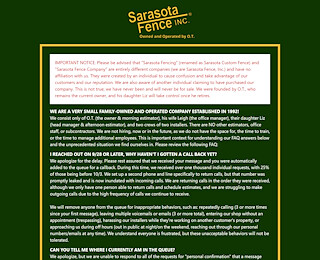 The decision to install a new fence on your property is one that should not be taken lightly. A new fence will add value and beauty to your home and offers protection and security. It can keep your children and pets safe and provide privacy so others cannot view you or your family. When it comes to fencing there are many choices. One of the best options for many people is aluminum fencing in Sarasota.
What are the Benefits of Aluminum Fencing?
Aluminum fencing in Sarasota is made of aluminum alloy that makes it strong and durable. It is one of the most versatile types of fences and can be used in almost any setting. It can easily be made to blend with your landscaping. Aluminum fencing in Sarasota does not require much, if any, maintenance. You won't need to repaint or stain it as you must do with wood fences.
Aluminum isn't susceptible to corrosion or rust so it should keep its beautiful appearance for many years. It is one of the most secure types of fences you can purchase. It is available in a wide range of sizes and heights so you can create the ideal design to meet your needs.
Aluminum is ideal for installation on land that is uneven because it can be easily adapted to the slope. This means that you won't have uneven gaps at the bottom of your fence. Painted aluminum is done at the factory and will not chip or peel.
One of the most important benefits of aluminum fences is that they are affordable, especially when compared with other fencing such as wood or vinyl. Aluminum fencing is generally available in panels making it easy to install.
How to Prepare for a Fence
Once you have decided to purchase aluminum fencing in Sarasota there are a few things you will need to do. Decide on the location and size of the fence that you want to install. Consider the height of the fence and the style fence that you prefer. One important factor will be your available budget.
Meet with a fence specialist to review your needs. You will be able to choose from a selection of different options depending on your preferences. You can view some of the most popular fence styles on our online gallery.
You will be able to create the exact fence that you prefer. We offer aluminum fencing in Sarasota from some of the leading fence manufacturers in the country. Our installation team is experienced with all types of fencing installation and care. We ensure that the fence is properly installed so it will last a long time with little maintenance. The fence is guaranteed to last for a number of years depending on the type of fence that you choose.
There is no better way to protect your property and increase the value of your home than with a beautiful new fence. Contact us today to learn more about fencing options and to get started choosing the fence that meets your needs. 
Aluminum Fencing Sarasota
We welcome your comments!