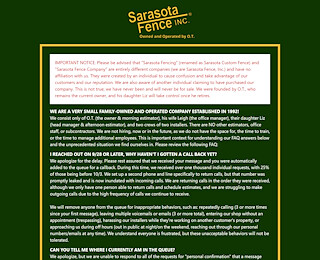 Design and Durability of Your Commercial Fence in Sarasota
Whether you're planning to improve, rebuild, reorganize, redecorate or have something built out of scratch, one of the most essential things that you need to look into is the type of fence to use for your property. It matters, the type of materials used, the durability and more so the design of the materials itself.
More than the quality and durability of the items that we produce, Sarasota Fence values the design and aesthetics as well. This is why our company caters fence installation services to both residential and commercial based clients.
Sarasota Fence was founded in the year 1992 as a family business that produced high-quality fences and yard necessities. We live by the saying; quantity is not worth it when quality is compromised. This is why we always see to it that both design and quality is ensured for every item that we produce.
You Options with Commercial Fence in Sarasota
As a small business, we understand that even a simple store needs to be secured. A business is one's source of income and like how we keep our money safe in the bank, we should the same for our business. Fencing is one of the best ways to make sure thieves and evil-doers won't even dare to rob your store or business.
We understand how every property owner would want to keep their assets secure whether it is you're talking about business or personal possessions. And using a reliable fence is one way to secure your property and possessions. Sarasota offers fencing materials that can be used for both commercial and residential purposes.
Our company also offers a variety of styles and designs, all created and aimed to provide the perfect product for your preference and purpose. Sarasota also offers other services such as taking down or hauling away your existing fence if you want to have it replaced. We also offer repair services, however, this will only apply to the fences that we installed originally.
Commercial Fence in Sarasota is a Must
More than the aesthetics that fences can add to one's property, it can also be used to increase privacy and protection from prying eyes. It can also help create a sense of identity and distinction for your business or property which in turn can contribute to increasing business revenue.
So you may need a fence for your home, fence for your garden, fence for your property or even a fence for your business, Sarasota Fence is sure to provide you the perfect fence of your liking. Our company sees to it to only use the finest materials that can only produce high-quality items in order to make your purchase worth it. You can also leave the installation part of our team!
If you have further questions and inquiries that you'd like to be addressed, feel free to contact our team through the Contact tab on this website or call us through our hotline and e-mail provided here on.
Commercial Fence Sarasota
We welcome your comments!