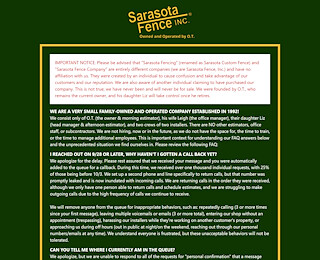 A fence can perform many different functions. It may provide privacy, security and safety to your property. It can be useful for keeping kids and pets nearby and for keeping neighbors out of your yard. There are many types of fences to pick from. When you choose a fence for your residential property you want one that not only serves its purpose but also adds some curb appeal. A decorative fence in Sarasota is available in a variety of styles, sizes and materials.
What are the Types of Decorative Fences?
When you decide to install a fence on your property you want it to look good and fit with the architecture of your home. The most common types of decorative fences are likely wood and vinyl. Wood fences can look rather plain unless you add some finishes. Finials and ornamental posts will help create a more decorative fence in Sarasota. You can also choose to paint a wood fence with flowers or stencils to create a unique one-of-a-kind creation.
Vinyl and metal fences can have many decorative features. A scalloped bottom to the fence design looks beautiful as do scrolls and various types of finials and posts. When choosing a decorative fence in Sarasota you can't forget the functional aspect of the design. If you intend to use the fence for security and not just as a property line marker you will need to make sure that the fence suits that need.
Tips for Choosing a Decorative Fence in Sarasota
There are many various features you can choose from in order to make a plain fence look more appealing. You can view our online gallery to get some ideas from the many fences that we have installed for customers. You can also look online and in magazines to see fences that appeal to you and that will look good with your landscape.
A fence should offer good curb appeal. That simply means that it will improve the look of your home when people view it from the street. A good fence can last for many years so always choose a fence that has a timeless elegance so that it won't go out of fashion.
Choose the material that suits your lifestyle so you are sure that you have the time needed to spend caring for it. Before you install the fence make sure that you know your property lines. If not you will need to get a survey so you make certain that the fence is properly placed. You will also need to make sure that you obtain the necessary permits before installation begins.
You can leave all of the details to an experienced fence company. You won't need to worry about a thing. Simply choose the fence style that you prefer with help from the experts. The installer will measure for the fence and provide you with updates throughout the fence installation. You will soon have a beautiful decorative fence in Sarasota that will be part of your property for a long time to come.
Decorative Fence Sarasota
We welcome your comments!