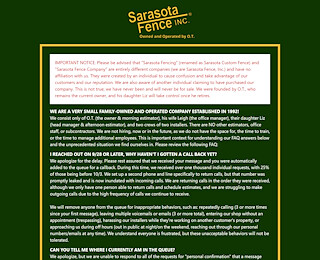 PVC Fencing in Lakewood Ranch
Sarasota is located on the Gulf Coast of Florida about 60 miles south of Tampa. It is known for Siesta Key Beach, a perennial choice as one of the top beaches in the world. It is home to the John and Mabel Ringling Museum and once was the winter home of the Ringling Brothers & Barnum and Bailey Circus. A bit east of Sarasota is the planned community of Lakewood Ranch, home to Dick Vitale of college basketball fame.
Sarasota is also home to Sarasota Fence, Inc. who have been building fences for residential and commercial establishments since 1992. They offer fences made of wood, aluminum, galvanized aluminum /vinyl chain link, and PVC / Vinyl for any purpose be it for privacy or a ranch style to enclose a field.
Wood has been around for as long as there have been trees and ancient civilizations had metalworking skills. The advent of steel and aluminum in the 1800s provided the materials for the industrial revolution and of course to build sturdy fences. The "late-comer" to fencing materials is PVC.
A Brief History of PVC
PVC was first discovered in 1838 when Victor Regnault, a French chemist, left some glass containers of vinyl chloride in a place where they were exposed to sunlight. Ragnault was surprised to find a brittle substance had formed in his flasks that turned out to be a crude version of the PVC. This "discovery" is also credited to a German chemist named Eugen Baumann who did the same thing in 1872. In 1926 the first commercial application of PVC was made by B.F Goodrich to make items like umbrellas and raincoats.
Over the years, additives like titanium dioxide and UV stabilizers for UV light protection increased the lifetime of PVC products. Siding made of PVC for residential housing became the rage in the late 1950s. When the ability to make PVC look like wood and metal was developed, it became the material of choice for fencing.   
Made to Endure
The greatest asset of PVC fencing in Lakewood Ranch is its endurance. It will maintain itself long after a wood fence has started to rot. It will look like new compared to your neighbor's rusted steel fence. One should compare the warranty for different types of fences to completely appreciate its feature. Its longevity comes only by staining. It can cause longevity to the life of a wood fence while a repaint can also add years to the longevity of aluminum fence. PVC needs only a wash using a garden hose every now and then to look new again.
Sarasota Fence will take down and haul away your old fence so you will not need to worry about a pile of debris while your new PVC fencing in Lakewood Ranch is installed. The appearance of wood fences is timeless so if you prefer fences made from what nature provides and not from refined hydrocarbons then Sarasota Fence, Inc has many styles and designs to choose from. Call them for a risk-free estimate at 941-351-8989 or send an email to sarasota.fence@gmail.com for more information.
PVC Fencing Lakewood Ranch
We welcome your comments!