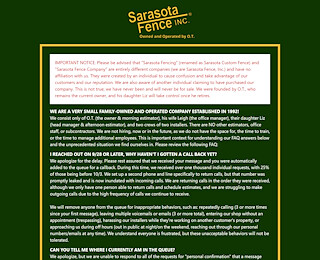 The Only High-Quality PVC Fencing in Sarasota
Fences are vital in the creation and protection of property. It can be used for both residential and commercial purposes, the goal is the same – to protect whatever is within one's property. Which is why it pays to have only the trusted fence manufacturing company to tend to your needs in terms of your fences.
If you're one who's currently looking for a reliable fence that will live up to its truthful use, then you're in good hands with Sarasota Fence. We provide different types of products and services that are catered to the needs of both residential and commercial space owners. From installation services, chain-linking fences, and repair services, we are the team for you!
Why Choose a PVC Fence?
Fences used for residential yards are mostly made out of wood. However, some would prefer to use PVC material for their fences as it is environment-friendly and recyclable; plus it is not that complicated to maintain. Moreover, families also resort to using PVC built fences for privacy reasons.
Quality made PVC fences do not really show much traces of being recycled especially when looking at from a distance. This has made it number one in being the substitute for wood in construction materials. One can also pain the PVC fencing in Sarasota with different colors to add more design to it.
The upfront cost for having a PVC fencing job is a bit more expensive than wood fencing but when it comes to maintenance, it is much cheaper compared to the latter. If you're worried about the stain, that algae, mold or mildew, there are ways to remove the stain without the need to remove your fence or spend a lot of cash in it.
The Beauty of PVC Fences
With the pros and cons of PVC fencing laid out above, it is still undeniable how using PVC material for your fencing has its own benefits and upsides. With the low maintenance cost of PVC fences, you will have a long-lasting fence and one that is taken care of by your material provider. Plus, it gives this sort of simple yet classic look on one's property.
Sarasota Fence offers a wide array of styles, designs, forms, and types of PVC fences that you can choose from. The design varies in the purpose and use of the fence may it be for security build up, privacy, decoration and the like. Our team makes sure that the designs are enough to cater to the very distinct preferences of each customer.
If you so much decide to change your PVC fencing in Sarasota after some time post the purchase, you can call our team to haul or take it down for you. Much more, if you need some of your previously purchased fences fixed or repaired, we can also get it done for you.
Should you be interested in knowing more about our products and the services that we offer, simply give us a call or leave us a message through the details found in the Contact Tab of our website.
PVC Fencing Sarasota
We welcome your comments!