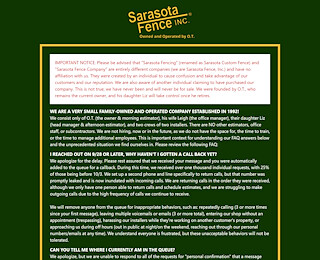 When you decorate a house, you don't just have to take into account the details of the interior. External areas also require attention. One of the most relevant elements of the external appearance of properties is the fence.
An excellent fence has significant advantages: It allows the delimitation of spaces, provides security and also increases the value of the property. There are different options for you to select from, but the choice that gives the best price/value ratio, are the wooden fences.
Why Install Wood Fences?
The classic, natural materials are the ones that provide a better visual appearance to the spaces. Wood has always been a material used for the construction of beautiful living spaces. By placing the wood fence, you will give your property a fresh and natural look. Regardless of the style of your home, wood fences will match perfectly.
Materials
There are many varieties of wood to choose from. It is best to select from the hardest, to ensure the durability of the fence. An excellent option is to look for cultivated wood since the trees are specially cared for to build this type of structures: pine, cedar or eucalyptus are three ideal varieties for this purpose. If you want to get the best wood fencing in Sarasota contact us; our team of experts is ready to advise you.
Design
Concerning the pattern, the traditional wooden fences are formed by a series of parallel planks placed vertically, which are joined by other horizontal ones. Today, you can choose another type of design to suit your needs. You can select the height of your fence, which can vary from a few centimeters to a couple of meters. Also, if you want more privacy or security, you can decide by a more woven design.
About colors, wood is also very versatile. If you are a lover of the material, you can leave the fence in its original color. Just apply a layer of transparent lacquer to preserve it from the weather. You can also paint it, choosing a color that matches the style of the house.
How to Get Your Wood Fence?
If you want to place this type of delimitation, you have three options. First, if you're a DIY enthusiast, you can venture to build it. The second option is to buy a prefabricated fence. In the market, you will find a variety of modular structures of different styles, heights, and patterns. However, it is still up to you to install it.
The third option is the wisest. In Florida there are specialized companies with extensive experience, such as Sarasota Fence Inc. Having the backing of an expert company will bring you great benefits:
Specialists will help you in the measurement, design, and planning of your fence
The wood to be used will receive special treatments to resist the weather.
You can select more complex and custom designs
The most prestigious companies will guarantee their work
Save time, effort and money
You will enjoy a first-class finishing of your new fence
Sarasota Fence Inc Has the Best Wooden Fences For You!
Since 1992 we have successfully served a wide variety of customers in the region by providing the best space delimitations. If you want the most spectacular wood fencing in Sarasota, we are your best choice. Let us design a solution according to your good taste, allowing your residence to have a fence that perfectly combines beauty and safety. Contact us.
Wood Fencing Sarasota
We welcome your comments!